World's Most Trusted eLearning Platform Now OnCloud
ScholarLMS is a Learning Management System designed to simplify your digital classroom and take away the pain of managing one! We focus on technology. So you can focus on learning!
Explore what you can do with Scholar LMS in
real-time environment.

No credit card required. FREE for Non-Profit and
Startup Businesses.

Getting Started is Easy as Pie! Three Easy Steps
and Voila!
Let's now review some of the ScholarLMS's powerful features...
On cloud Learning management system
ScholarLMS is a cloud based learning management platform. Since it is stored on the cloud, you do not have to worry about storage, backup and your geographic location.
This means that you can work out of your office, your home, the neighborhood coffee shop and even the airport! Take your online school with you wherever you go!

Upload Unlimited Courses
Have a lot to share with the world? ScholarLMS allows you to upload unlimited rich multimedia courses according to your curriculum.
No matter what pricing plan you are on - course uploads are always unlimited!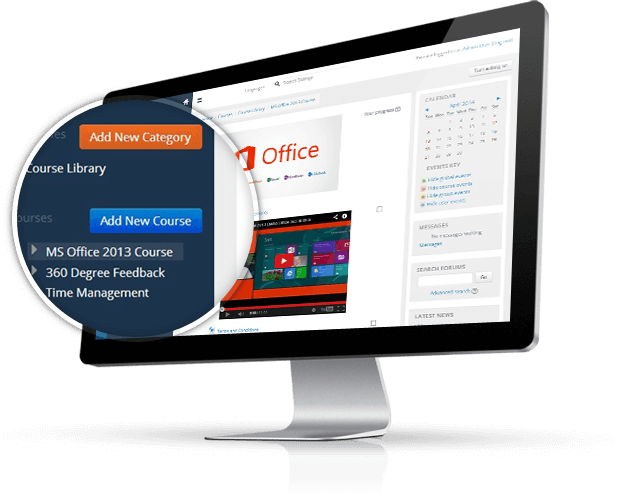 Sell Your Courses
ScholarLMS gives you the power to sell your skills online.
The platform allows you to not only reach students who want to undergo the whole training, but also those who want to hone their skills in a particular area. Daily coaching, weekly seminars or the entire coursework downloadable at one go - ScholarLMS lets you sell your skills the way you want to!
Your LMS, Your Domain
ScholarLMS allows you to use your own domain for your online school. And setting up your own domain with Scholar LMS is very easy, too.
Your students are familiar with your style, your logo and your website link. Your own domain helps you provide a warm, personal experience to your students!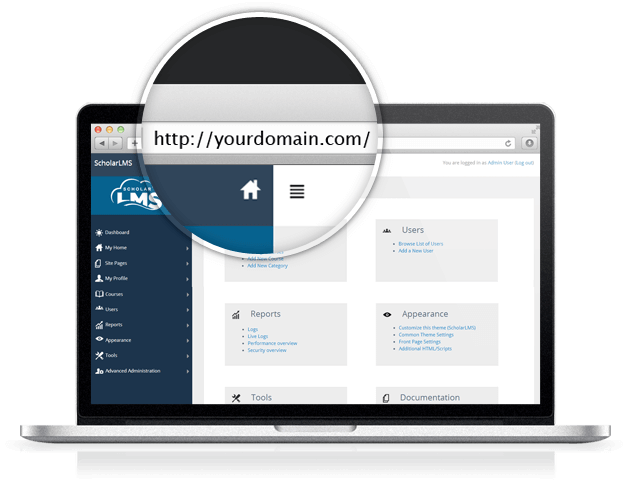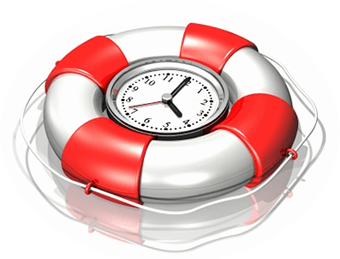 ScholarLMS gives you the right tools to streamline, optimize, automate and control your digital classroom.
Timely reports that make sense, automated backup and updates, customization options to quickly access the features you use the most and easy payment and collection options save you over 70% of time as compared to a traditional LMS.
Collaborative Learning
ScholarLMS is not just for a student-teacher broadcast environment. Whether you are a rock-band, a research team or a social-action group, ScholarLMS can help you collaborate, learn together and achieve as a team.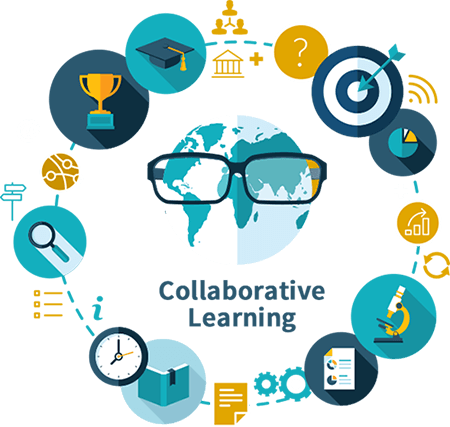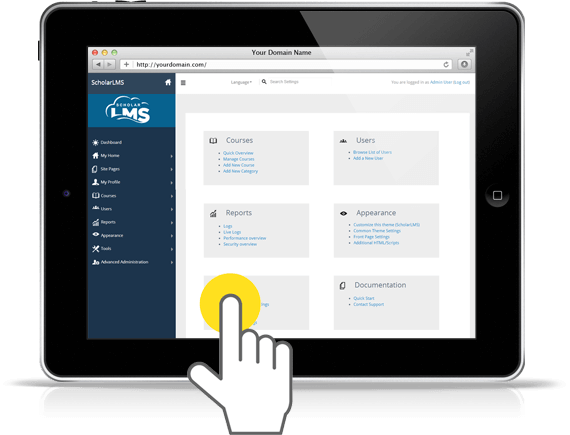 Easy as Pie!
ScholarLMS briges the gap between usefulness and usability!
Moodle is the most efficient LMS platform available but it can also be a tricky one to master! Which is why ScholarLMS has simplified the account setup and the naviagation so that you can quickly get Moodle to go to work for YOU!
Out of the hundreds of options available to the user, the most used ones are the easiest to find and the ones used less often can be found in the 'advanced' section. Getting started with an LMS was never this easy!

A classroom that chats together, stays together! Learning is a lot faster and much more fun when the students and teachers get to interact with one another in an informal setting.
That is why ScholarLMS lets you create instant chat rooms for any of your courses so that you and your students can interact and discuss freely! Feeling chatty already?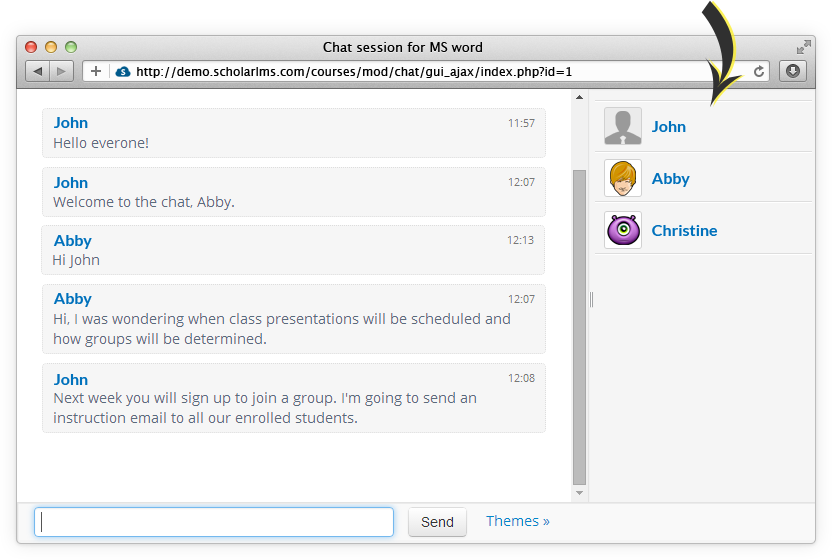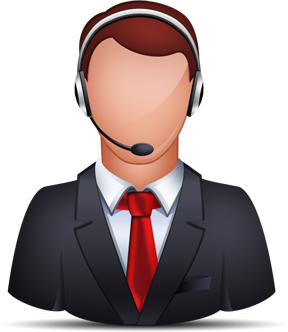 Rockstar Customer Support
We understand that no matter how efficient a system may be, the initial few days are the most challenging. And as you explore the system even further and explore more advanced options, you will need some assistance.
That is why our robust customer support team is always ready to take your queries and support your online school every step of the way.
Relax, we've got your back!
Custom Grading Scales
No two courses can be graded the same way and we understand that well. ScholarLMS offers you complete flexibility in creating your own customized grading scales for your courses.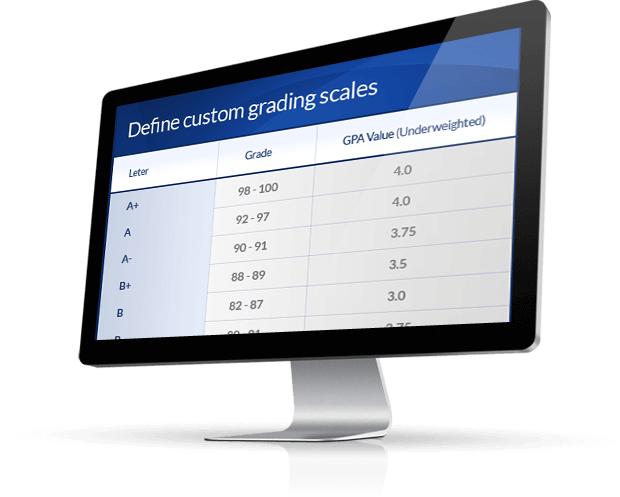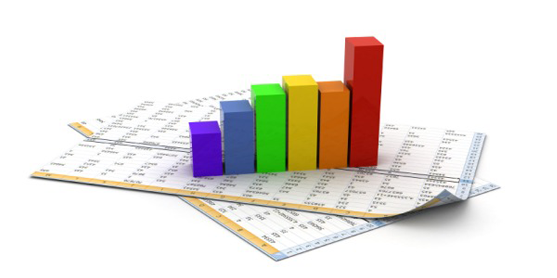 Simple, Informative Reports
Most reports generated by online systems are so complicated that it takes an expert to make sense of them. Not so with ScholarLMS.
Our system generates simplified reports that are easy to interpret, and information displayed in a way it can be deduced to quick action-points.
One Stop Shop
The system contains over one hundred actually USABLE features that make your business simpler, more efficient. Advanced backend technologies such as xAPI and SCORM make ScholarLMS the last learning management system you will ever need.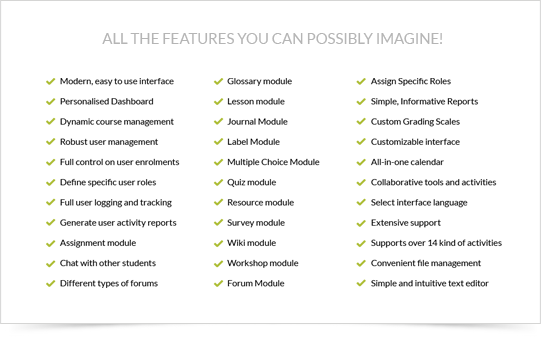 If you have been sitting on the fence, waiting to launch yourself online and share your knowledge with the world - this is your moment - act now!
An eLearning platform with the highest number of users in the world...
Modern, easy to use interface

Personalised Dashboard

Dynamic course management

Robust user management

Full control on user enrolments

Define specific user roles

Full user logging and tracking

Generate user activity reports

Assignment module

Chat with other students

Different types of forums
Glossary module

Lesson module

Journal Module

Label Module

Multiple Choice Module

Quiz module

Resource module

Survey module

Wiki module

Workshop module

Forum Module
Assign Specific Roles

Simple, Informative Reports

Custom Grading Scales

Customizable interface

All-in-one calendar

Collaborative tools and activities

Select interface language

Extensive support

Supports over 14 kind of activities

Convenient file management

Simple and intuitive text editor
What Some of Our Customers Are Saying About Us…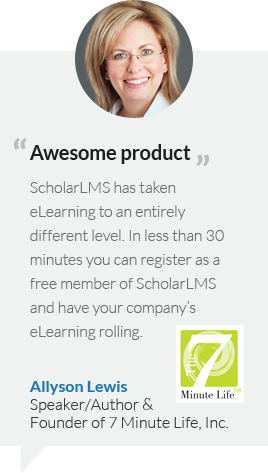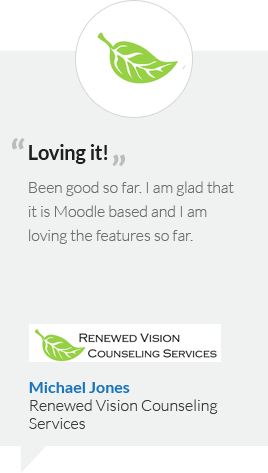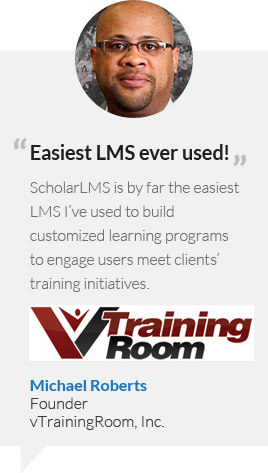 Explore what you can do with Scholar LMS in
real-time environment.

No credit card required. FREE for Non-Profit and
Startup Businesses.

Talk to us
We need your help in making digital learning a better experience for everyone. Questions, comments, suggestions or a business enquiry – we want to hear it from you. We strive to respond within 24 business hours.