This new year ScholarLMS brings to you exciting new features and tools! And while we will explain the finer details of all these features in our subsequent posts, here is a brief overview:
Comprehensive eCommerce integration, not just to sell your courses but also to automate processes.
Live Online Classroom server to make it easier and affordable for you to have realtime interaction with your learners.
A POWERFUL Brand New Theme for ScholarLMS
Sparkling New Starter Packs to get you started effortlessly and at minimal cost to you.
Let us now get into the details!
Comprehensive eCommerce Integration:
We had mentioned before that the courses are sell-able. Now, this feature has been further enhanced will more functionalities in 2015.
We understand that creating and delivering courses is just one part of an eLearning business. Selling it is completely a different ball game. With ScholarLMS, you now have a whole bunch of new features and tools all designed to help you sell more easily. Here are some of the features of your eCommerce section:
Unlimited Course Categories
Unlimited Courses
Unlimited Authors
Multi Currency
Multi Language
Course Reviews
Course Ratings
Multiple Tax Rates
Automatic Course Enrollment on purchase, automatic unenrol on return/refund
Automatic Image Resize
20+ Payment Gateways
8+ Shipping Methods
Related Courses
Unlimited Information Pages
Shipping Weight Calculation (If any)
Marketing
Error Logging
Discount Coupon System
Affiliates
Awarding Loyalty Points and purchase using them.
Search Engine Optimization (SEO)
Unlimited Module Instance System
Backup & Restore Tools
Printable Invoices
Sales Reports
Live Online Classroom Server:
The ScholarLMS Live Online Classroom is a web conferencing system designed for on-line learning. We believe that every student with a web browser should have access to a high-quality affordable on-line learning experience. With this feature, one or more teachers/educators can take online live classes with their learners. Optionally, this can also be recorded and used as future course material. Sounds cool, right!
Till now you were able to conduct online classrooms with your students but for that you had to buy a plan from an external server. This made things complicated and costly for you and we hated that. You can now purchase the online classroom server plans along with your regular ScholarLMS plan. This will make Online Classroom feature six times cheaper than before. Thatis right SIX TIMES CHEAPER! Here are some quick features:
Record and Playback
ScholarLMS Online Classroom can record your sessions for later playback by learners.
Whiteboard
The whiteboard controls let you annotate key parts of your presentation.
Desktop Sharing
You can broadcast your desktop for all users to see (requires lastest version of Java for presenter only).
WebRTC Audio
Users of Chrome and FireFox browsers will benefit from high-quality, low-latency WebRTC audio. (Users of other browsers will seamlessly use Flash-based audio.)
Presentation
You can upload any PDF presentation or MS office document. ScholarLMS Online Classroom keeps everyone in sync with your current slide, zoom, pan, annotations, and mouse pointer.
Web Cam
Multiple users can share their webcam at the same time. There is no built-in limit on the number of simultaneously active webcams.
A POWERFUL Brand New Theme for ScholarLMS
Users all across the globe were in love with the ScholarLMS's theme because of its simplicity and nifty dashboard. BUT we have been working hard to make it even better! Features that you are going to love! We have, thus renewed our default theme. The same quick dashboard is now accessible from the LMS itself. Here are some of the new features we're sure you will find useful:
You can now access "Quick dashboard" from the LMS itself
Your learners can now jump across your Catalog/Store and LMS seamlessly from the top navigation
You can now enable/disable your eCommerce from the master account
Starter Packs:
"Well begun is half done" maybe a cliche but it couldn't be more true with an eLearning business. We understand that getting started with your new ScholarLMS platform and eLearning business feels like an uphill task, no matter how simplified the system may be. But we are here to give you that jump start so that you are guided, advised and supported by our eLearning experts right from the get go! And that too at a minimal cost to you. ScholarLMS currently offers two Starter Pcaks:
1. Basic:
Basic Setup and branding
a) Various account settings
b) Customization on ScholarLMS's default theme
c) eCommerce branding
Course setup (Upto 2 courses)
Existing user import to your LMS and enrollment settings
Custom roles and capabilities
eCommerce products and settings (2 products)
Custom domain setup
2 hrs consultation and training
Worth $1,440
2. Advanced:
Basic Setup and branding
a) Various account settings
b) Selecting an appropriate theme
c) Matching this theme with your brand
d) eCommerce branding
Course setup (Upto 5 courses)
Existing user import to your LMS and enrollment settings
Custom roles and capabilities
Badges and certifications
Custom grading scale
eCommerce products and settings (5 products)
Custom domain setup
5 hrs consultation and training
Worth $4,200
But that is not all! I know we are all still in the Christmas-New Year holiday spirit and to make the celebrations really great for your business, we are giving away 20 basic and 10 advanced (for paid accounts) Starter Packs for free! Yes, FREE! Of course on first-come-first-served basis.
Here are the coupon codes you can use to get the packs.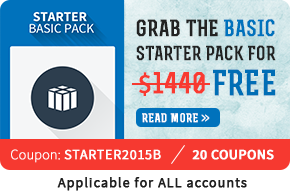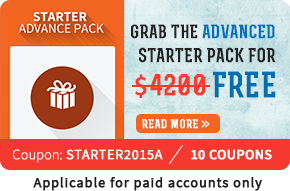 Additionally, you can explore other ScholarLMS plans here.