Enhancing Employee Productivity via Scenario-Based Learning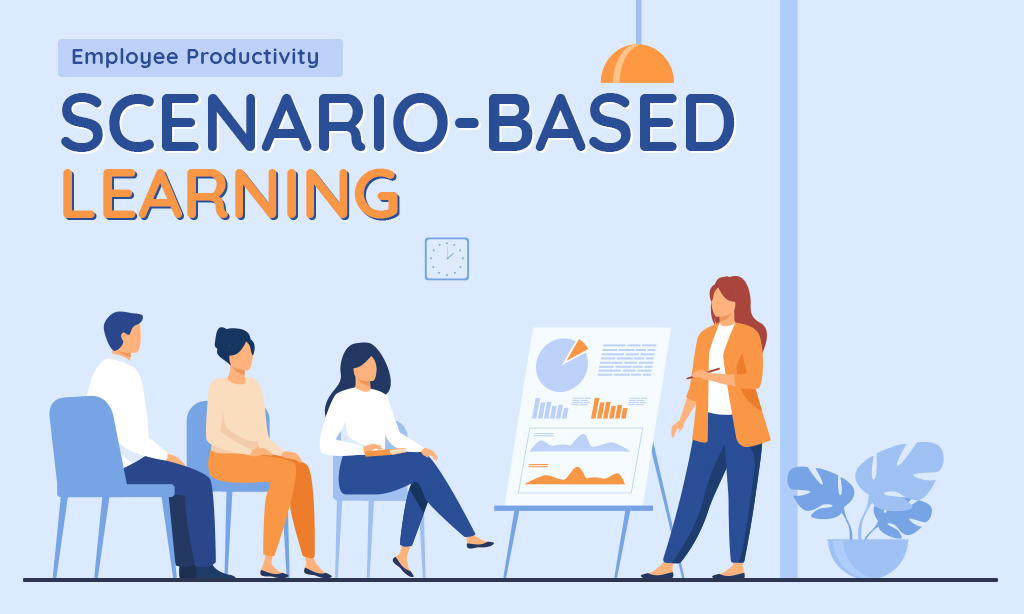 Scenario-based learning is a tried and tested learning approach based on realistic situations or scenarios that learners may already be familiar with. The process is somewhat similar to what happens in real life, but the scenarios or situations are specifically designed to foster participants' thoughts, behaviors, and responses. Be it via simulated or real-life events, there's no denying that lessons learned over time often come in handy to address familiar problems or tackle similar situations, whenever they crop up.
When incorporated in corporate training courses, this learning approach serves to enhance not just employee morale and confidence but also productivity levels. Several companies have adopted scenario-based training to enhance the communication and people skills of their workforces.
How Can Scenario-Based Learning Make a Difference in the Workplace?
Employees experience a certain pride in being successful in the workplace. Every employee, no matter their role, is happy at the end of the day for having done a good job – and elated if that gets noticed!
Scenario-based learning trains employees to excel in their roles by putting them through different situations they are likely to face at work. As this experiential learning happens in a secure test environment, the employees:
Are free to try out different ways to tackle one or more situations
Can use this learning environment to hone specific skills without the fear of failing
Are allowed multiple attempts to arrive at the best solution
May get to work in teams on one or more scenarios
One notable aspect of scenario-based learning is that there are usually several ways to tackle or handle any situation or scenario. There is no right or wrong approach, but each path is likely to have its own challenges and repercussions. This is how participants learn to face the impact of their choices and decisions. These lessons prove valuable in efficiently and amicably addressing work-related issues.
Practice makes employees confident, if not perfect. The opportunity to go through the same or similar scenarios with increased complexities tends to reinforce the learning. It also creates an experience that sticks in one's mind and can be recollected at will and utilized to improvise on demand.
Is Scenario-Based Learning Suitable to Train an Entire Workforce?
Training programs that involve immersive experiences are more engaging than those featuring passive content. They are suitable to train staff on mandatory, important aspects of work that are typically considered dull, such as:
Workplace Safety
Regulatory Compliance
Quality Audits
Work Culture and Ethics
These aspects and other routine reference or performance support materials are ideal candidates for scenario-based training. Scenario-based learning or training makes more sense when companies opt to train employees for specialized jobs that:
Require extensive practice in a controlled environment to get right
Demand critical thinking and analytical skills
Need strong yet persuasive and polite negotiation or communication skills
Involve strategic decision-making processes that may have a telling impact on the company's business prospects
When combined with powerful content delivery techniques such as Microlearning or Gamification, scenarios can get more exciting and engaging. It is possible to design compact mini-scenarios as standalone units that employees can visit to hone specific capabilities. These learning nuggets may be further gamified to lead participants through a maze of branched situations to complete their quest.
The Productivity Factor
Employee productivity is simply the amount of work an employee completes within a given time. The work must also clear quality standards! Employee productivity is, to a large extent, dependent on employee morale and competencies. Employees who are enthusiastic, confident, knowledgeable, and self-reliant tend to discharge their work obligations efficiently. Scenario-based corporate training programs can help inculcate these very qualities in employees, making them more productive in the process.
Benefits of Scenario-Based Learning
Scenario-based learning has a better chance of capturing and retaining the attention of employees, especially those with tons of experience and exceptional track records. It works equally well with novices and fresh hires, but the scope of training needs careful attention in cases such as these.
It gives participants a fair idea of their current skill levels and the options to tackle their jobs in different and what are likely more efficient ways.
This method of learning boosts employee confidence and makes them self-reliant.
The key factor is that the scenarios are typically realistic and, thus, employees better relate to the situations. Depending on whether they are part of the situation or an outsider, their perspectives and responses tend to vary. Lessons learned during such training programs work well when suitably applied in real life.
While scenario-based learning enhances knowledge retention and recollection, it also saves a lot of time that employees spend on trying to find solutions for common problems.
Reference or training content built based on scenario-based learning encourages employees to continue their academic pursuits, enhance their skill-sets, and, of course, suitably apply all this in the workplace. It also enables them to increase their efficiency and productivity in the process. Scenario-based learning is not ideal for elaborate foundation courses or necessary for simple how-to-programs. Scenarios are, however, pretty useful interventions in training programs that address basic or fundamental concepts. They serve to reinforce certain important concepts or theories quite effectively.