The Role of Learning Management Systems in Organizing Online Examinations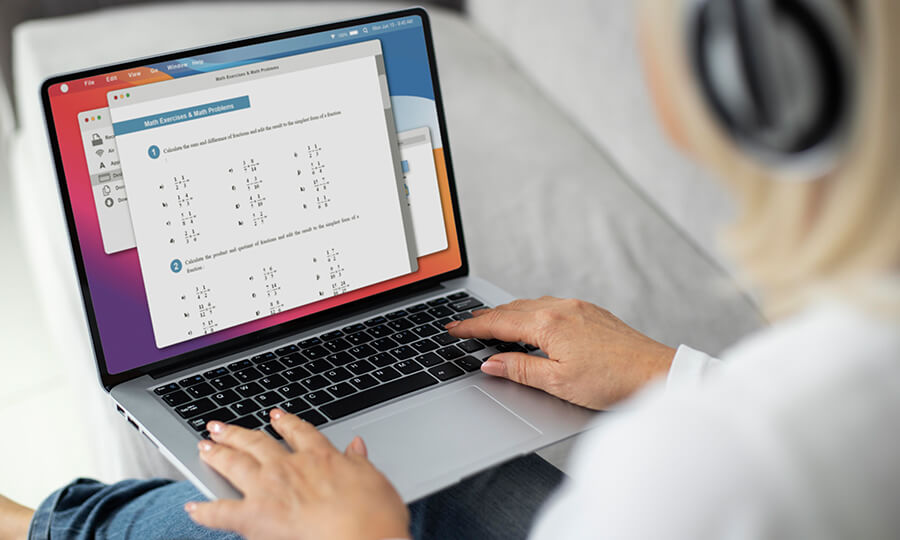 The ongoing COVID-19 pandemic has forced academic institutions to come up with sound learning continuity measures to address possible disruptions in future. Remote classes and online examinations are an integral part of these measures. Several schools and colleges in some countries, however, have decided to skip the annual examinations and allowed students to move on to the next grade for this academic year. There have been exceptions as well, with some educational institutions going right ahead with the exams as scheduled, at least for senior classes.
Many institutions of learning have managed to offer online classes in some format or the other. They still need to move the examinations and assessments online for remote education initiatives to reach a logical completion.
Using an LMS to Organize Online Exams – How to?
The process of preparing a full-fledged online examination for higher education courses is no different from that of a conventional exam. The format and time limits though may be different based on practical considerations. Educators may need to learn the ropes but many are undecided on how to go about the process. A few valuable pointers from the University of Pennsylvania's Center for Teaching and Learning can serve as a great starting point though.
Online exams can be conducted using exam software that meets the most common requirements of institutes and schools/universities. There are quite a few of them available off-the-shelf and it is important to shop around to pick a suitable one. Going by recommendations from trusted sources will be helpful unless the institution's management team is sure about what features to look for in these products.
Educational institutions may also use a Learning Management System (LMS) to conduct online examinations if the system supports:
Administration of tests
Assessment/Grading
They may also integrate online exam software with the LMS if they wish to make use of advanced exam proctoring features offered by some of these products. For the hand-shake to happen:
The LMS must support external software and
The online exam software must publish Application Programming Interfaces (APIs) to facilitate the exchange of information between the two systems.
The exam software should support OPEN API or REST API to integrate with an open-source LMS.
Such technicalities aside, educational institutions can draw upon the features of both the LMS and the exam software to effectively tackle online exams.
Preparing Online Exam Papers
The formats of online examinations tend to vary based on the subject and the level of education.  They may differ from one institution to the other as well, and can typically include a mix of:
Quizzes (objective questions with discrete answers)
Assignments (subjective essays and explanations)
Practical Applications (video uploads of demonstrations)
Educators will need to build a repository of questions in suitable formats and use them to create question papers for each subject or course. They may also use questions that are already available in the system. As for assessments and grading, it is possible to automate the evaluation process for the objective part of the examination.
A cloud-based LMS does take the pinch of out preparing question papers for online exams as it usually supports multiple content formats. A robust system houses all the necessary facilities to create, assign, monitor, and assess online examinations, proving to be a cost-effective and standardized option.
It is possible to use different software to conduct and assess the theoretical and practical competencies of learners. At the end, educators will need to consolidate and publish the results. Record keeping, consolidation and traceability are likely to become cumbersome in situations like these.
Making Online Exams Reliable and Foolproof
Are online exams proofed against malpractices? They may not be.
It is, however, possible to secure the online examination environment or the system by using suitable tools and technology. For instance, most online exam software and LMSs allow educators to:
Provide secure password protected login credentials to access the exam environment.
Set a start and end time for the exam, allowing learners to access the content only during the permitted period.
Restrict bulk content transfer, browsing of other websites, and other select actions such as copying and pasting content.
Enable desktop sharing and webcam activation to facilitate real-time proctoring. These features help record user sessions to ensure that the candidates were physically present the whole time, and attending the exam.
Few remote proctoring solutions also allow educators to verify the identity of a candidate via biometrics.
Educational institutions also have the option of switching to open book exams and personalizing each candidate's exam paper to make online exams truly challenging. Educators can automatically generate an exam paper by instructing software to randomly pick questions from a question bank or repository. There are quite a few other viable alternatives to online exams as well.
These are but a few of the many features that help make online exams more secure and foolproof, even when taken from remote locations.
It is also possible to conduct online examinations from a centralized computer lab at the school, college, or university. In such cases, the process is no different from conventional exams. Invigilators are present at the venue to prevent malpractices. Exam-proofing every computer in the lab is a pre-requisite though. This enables candidates to continue their exams from another computer, even if there are technical glitches or system failures.
With online examinations here to stay, educational institutions must establish standard procedures and checklists to secure the exam environment. Investing in reliable online exam proctoring software can enhance the reliability of the process, making it more acceptable as well.
An LMS can make online examinations easier for both educators and candidates. Having used the software for online classes, users will be quite familiar or rather comfortable with the environment. Creating exam papers or answering them may not be a daunting process. At least there will be no last-minute learning on how to use the software. A Cloud-based LMS can scale up on demand to meet the data requirements of large scale exams. It is also serves as a central repository of data that typically spans the entire educational process. This very fact makes it possible for educators to consolidate learner data, evaluate and analyze it, as well as personalize feedback to ensure learner progress and enhance performance.